Cash Deposit System

SCAN COIN CDS 820j – an upgraded version of one of our most powerful and popular selfservice solutions for bulk coin deposits. The new version features a modern and intuitive user interface, displayed on a crystal clear 7" colour touch screen. The CDS 820j is managed by SCAN COIN's most powerful software giving full flexibility for usage and connectivity to backend systems.
| | |
| --- | --- |
| ►User friendly touch screen | ►Powerful Software – OrchardJ |
| ►Best market price | ►Highest uptime |
| ► Powerful Cash Deposit System | ►Strong accuracy and reliability |

Designed for best user experience
SCAN COIN has unveiled the Cash Deposit System, CDS 820j. The latests self-service bulk coin deposit solution offers the intuitive GUI, Graphical User Interface, strongest reliability and uptime, at an attractive price.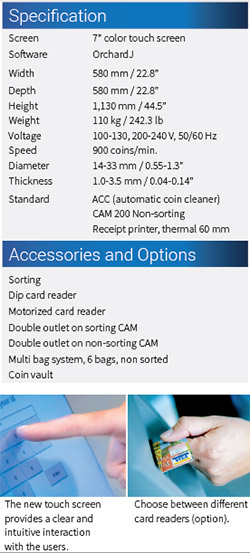 Proven best-in-class technology
The Cash Deposit System is SCAN COIN's flagship, being the first solution of its kind on the market. Today it is spread worldwide and recognized for its high performance and accuracy. The proven best-in-class technology,
based on over 25 years of experience, has been put into the CDS 820j. The latest solution is ready to meet the future demands and the toughest requirements on the market.

OrchardJ – World class software
OrchardJ with its multifaceted and well designed architecture is highly acclaimed by many customers and is used as the industry standard in several markets. With OrchardJ you have full flexibility for configuring the machine. And it has never been easier to connect to back-end and monitoring systems.

The clear touch screen combined with OrchardJ provides the best user's experience in any language. With the new screen CDS 820j offers full coverage of all countries' characters.

Strong sensor technology and connectivity
The latest SCAN COIN sensor technology is available on CDS 820j which naturally is ETSC approved. Our highly accurate and reliable sensors identify and count deposited coins, while rejecting foreign, damaged and counterfeit coinage. You can choose the coin recognition standard you need, with performance to meet even the most demanding requirements. In order to store the cash safely a lockable coin tray is also included.
Self-service around the clock
Cash Deposit Systems open the way to selfservice around-the-clock. They create new opportunities for smart cash processing logistics, improve customer service and release staff from manual cash handling for a more profitable consulting role. The modular CDS 820j enhances these benefits by providing customer-specific solutions applicable for banks and retail stores with medium to high-volume coin flows.

Outstanding serviceability
With easily accessible modular components, both hardware and software is simple for staff to service or replace. The Coin Acceptance Module (CAM) contains a detachable dongle, which stores software, memory and configuration information. The compact, lightweight unit is easy to install. The proven reliability of SCAN COIN technology, will ensure you benefit from a low total cost of ownership. Storage in vaults or bags for easy reconciliations.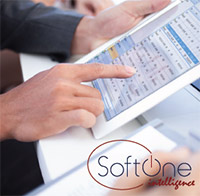 Superior Financial and Operational Control
The CDS works seamlessly with the unique monitoring software solution, SoftOne Intelligence. The solution is the ultimate management platform for superior financial and operational control of cash. It brings the very most out of your new CDS. The cash solution is also connectable to any
existing network and can be monitored from any remote position. Maximize the value of your business and benefit from best-in-class cash handling technology and system.
► ERP integration
► CIT integration
► Report generation