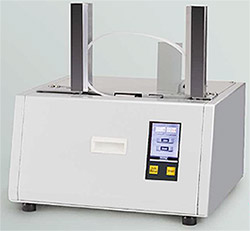 ZB-300 series were specially developed for automatically banding products with PE coated paper tape or PP film in 20/30/40mm width. Due to their high reliability and ease of handling, both simple and difficult work is carried out with ease.
Printer band products of all sorts while bankers band their banknotes. Other industries also use the machine for different application.
Features
Depending on requirements, 100 loose banknotes can be banded into a packet. 10 pre-banded packets can also be strapped together to form a bundle of 1000 notes (10x100 notes).
Adjustable side and rear trips facilitate neatly banding the products at the same position.
Two methods of activating the banding process:
- Push the START button manually
- Automatic sensor activation
A new loop is formed automatically after removing the products.
Loop size, banding tightness and sealing temperature are all easily adjustable. This allows the adaptation to different product sizes, packet thickness and banding tapes.

Distinctive features
A unique design to avoid folding the edge of banknotes while banding.
External tape box and automatic tape feeding designs ensure the easy tape change.
Optimized mechanism design allows easy access to tape feeding and troubleshooting.
LCD display for user-friendly operation, directly showing the settings of loop size, banding tightness and sealing temperature.
Both PE coated paper tape and PP film tape are available in one unit.
Tapes of 20mm/30mm/40mm are available, printed tape on request.
Low noise, making operators' work more comfortable.