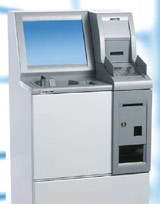 With an easy-to-use touch screen, full on-line PC connectivity and a deposit solution for both notes and coins, CDS 830 enables banks to maximise the benefits of a Cash Deposit System.
The ultimate CDS solution

A CDS solution means you can benefit from smart cash processing logistics, release staff from cash handling duties and give your customers all the advantages of self-service. CDS 830, the top-of-the-range machine in the 3rd Generation CDS series from SCAN COIN, is designed to maximise these benefits.
World-leading technology

CDS 830 has all the latest improvements in SCAN COIN patented electronic sensor technology. Our highly accurate and reliable sensors identify and count deposited coins, while rejecting foreign, damaged and counterfeit coinage. You can select the coin recognition standard you need, with performance levels available to meet even the most demanding requirements.
Choosing the bundle note module option turns the CDS 830 into a sophisticated, cost-effective solution for note and coin processing, offering customers a convenient total cash deposit service.
Full on-line PC connectivity

Using the built-in PC of the CDS 830, customers can make instant deposits direct to their accounts. On-line connectivity means CDS transactions can be fully integrated into your IT environment.
The optional, easy-to-use touch screen maximises customer service by enabling transactions to be completed quicker and more smoothly. Interface elements and screen layout can be easily changed.
The benefits of modularity

CDS 830 is based on a new modular concept. You can optimise performance and features according to your needs, creating a unique customer-specific solution. Quick, easy and inexpensive upgrades and adaptations can meet changing needs in key processing areas such as counting speed, sorting and currency selection.

Low total cost of ownership

Positive effects of CDS 830 modularity, such as good serviceability and reliability, will continue long after your initial investment.
Customised installation

The compact, lightweight unit is easy to install. You can choose a lobby or through-the-wall (vestibule) installation, or front or rear access to the machine. The unit can be customised for a bank lobby or retail store with a suitable colour for the cabinet and plastic trim, and tailored graphic design.