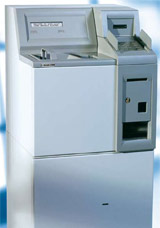 The unique modular concept of CDS 820 makes truly tailored CDS (Cash Deposit System) solutions available for the first time. With CDS 820, you avoid being locked into an inflexible system.
Modularity means tailored solutions
Cash Deposit Systems open the way to self-service around-the-clock. They create new opportunities for smart cash processing logistics, improve customer service and release bank staff from manual cash handling for a more profitable consulting role. The modular CDS 820 enhances these benefits by providing customer-specific solutions applicable for banks and retail stores with medium to high-volume coin flows.

Future-proof investment
Your changing needs can be met with easy upgrades, whether it is switching from medium to high-speed processing or moving up to a sorting CAM (Coin Acceptance Module).
The CAM´s network connection means no PC is needed when a bank customer wants to make an on-line deposit via direct transfer to an account.
All the latest improvements in SCAN COIN sensor technology are available on CDS 820. Our highly accurate and reliable sensors identify and count deposited coins, while rejecting foreign, damaged and counterfeit coinage. You can choose the coin recognition standard you need, with performance to meet even the most demanding requirements.

Outstanding serviceability

With easily accessible modular components, both the hardware and software is simple for bank staff to service or replace. The CAM contains a detachable dongle, which stores software, memory and configuration information. All this is switched smoothly to a new CAM along with the dongle.
The compact, lightweight unit it easy to install. You can choose a lobby or through-the-wall (vestibule) installation, and front or rear access to the machine. By selecting the colour of the cabinet and plastic trim, and utilising the graphic design possibilities, you can adapt the CDS to the decor of a bank lobby or retail store.
Positive effects of CDS 820 modularity, such as excellent serviceability and upgradeability will continue long after your initial investment. These effects, plus the proven reliability of SCAN COIN technology, will ensure you benefit from a low total cost of ownership.