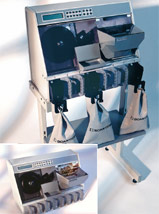 The SC 22 coin sorter is a compact and light performer. It features SCAN COIN's unique sensor technology and offers outstanding accuracy combined with reliable functions in one, small package.
A skilled best-seller

The SC 22 coin sorter is popular worldwide for its superior technology in combination with its small size and easy operation. The unit features automatic rejection of foreign and damaged coins, as well as programmable batch stops. It sorts up to 8 coins and counts up to 32 coins in three different counting modes.
The alphanumeric display ensures easy operation of the flexible software with subtotals, grand totals, date and time. Serial interface is standard, which enables connection to a printer, PC or to SCAN COIN cash handling system.
Compact and easy to use
The SC 22 is a very compact and light coin sorter, providing reliable counting technology at banks, post offices or in the retail sector. Easy operating and maintenance is a hallmark for the SC 22 and the solid construction combined with few, high quality components ensures minimum service. Thanks to its size, the SC 22 requires little space and is easy to move and handle.


Many flexible accessories

The SC 22 can easily be equipped for tubing or bagging coins at pre-set quantities. With the special table, SC 22 can also be converted to a free standing unit. Other accessories include additional printer and a large coin tray.