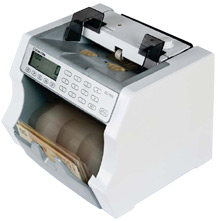 The SC 1600 series is the successor to the widely used SC 1500, a versatile desktop currency counter from SCAN COIN. The SC 1600 provides unique and advanced technology for helping you fight counterfeits.

Versatile and meticulous
Every year hundreds of thousands of counterfeit banknotes try to make their way into circulation. To detect and withdraw these sometimes very high quality counterfeits, you need a machine that answers to your high demands. The SC 1600 series comes in four different models, amongst which you can find the exact detection features you need.

A good model has become even better
The new SC 1600 series has kept the good qualities of the predecessor, and improved others. Better and more sensors vouch for even higher accuracy, new electronics give increased stability, and the new software package has dramatically modernised the machine. No need for complicated upgrade processes, from now on you simply connect it to a PC and make the update with the push of a button.





Counterfeit detection
The SC 1600 features unique and revolutionary technology to identify counterfeits. The machine uses for instance sophisticated magnetic ink recognition, ultra violet and infrared recognition in order to verify the banknotes' authenticity.

High throughput with flexibility
The SC 1600 offers a high throughput of up to 1,500 notes per minute. Standard functions include continuous counting as well as variable batching of any quantity between 1 and 999 notes. The machine restarts automatically after each completed batch to maintain high throughput.